Oh my god is it freezing! Yesterday was the coldest day we have had all year, a whopping 3 degrees!
Around 1:00 pm the snow started and since the commute was projected to be terrible, our town actually closed school early. I was happy to be home before it really started coming down because the visibility was zero and people were slipping and sliding on the roads. We ended up getting about 8 inches. Instead of hitting the gym and dealing with that traffic nightmare, I opted to ride my stationary bike at home while watching Charlie Brown. Fantastic decision btw. 🙂
Ok, onto the food.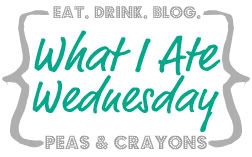 I have to wait an hour after I take my thyroid meds in the morning to eat breakfast. It works out pretty well because it's exactly an hour between when I get up in the morning (7 am) and when I get to work (8 am). I pack my breakfast in the morning and assemble it once I arrive at work. Since it has been so cold lately I have been craving something warm each morning so oatmeal and peanut butter have been my cure. It's a little boring, but it's been hitting the spot lately!
Lunches this week have been lots of leftovers. We have enough leftover chili to feed the entire Patriots team, but after this weekend's loss, I'm not sharing!
I also munched on some red peppers and fat free ranch. My palate has changed a lot over the years but my love of red peppers has never altered. <3
Nolan came home early from work due to the weather so I decided to actually make a decent dinner. I broke out a cod recipe I played around with a few months ago that I really loved. It needed a few adjustments and I think I really nailed it the second time around.
I will post the recipe soon, I promise but it's basically cod cooked in stewed tomatoes and spices over a bed of wild rice. It's super delicious and pretty easy to make.
I snacked on this poor little guy after dinner. Is it bad that I love biting their heads off?….
I think I need bring some of these cookies to work so I don't just eat them all. Nolan doesn't like sweets (maybe if I covered them in hot sauce he would eat them) so I try not to have them in the house cause I will end up eating them all. I would still chose a bag of chips over a cookie, but these holiday treats have been calling my name lately. How about you?
Enjoy the day!