Good morning all. How's it going?  I am having a delicious week so far! Nolan and I did some shopping this weekend and we got inspired by several on sale items so our menu this week has been out of control! The best part? Most of this week's flavors and recipes are completely new to us which is always very exciting. 🙂 Ok, onto the eats!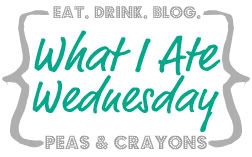 Sunday I did some baking in a major way and ended up with these: Cheddar Bacon Scones. (turkey bacon) They are AMAZING and I promise to share the recipe soon! They are perfect for my on-the-go breakfast style and a good source of protein.
A few hours later I snacked on a string cheese and some unsweetened applesauce.  I have been trying to pair my fruit with a little protein to keep me full longer and give me a little extra boost of energy.
Lunch was a soup & salad combo. Last year my fairy godmother introduced me to Trader Joe's Lentil Soup and I was FINALLY able to find it this season! I enjoyed a cup, along with a mixed veggie salad topped with leftover chicken from a drumstick dinner I made last week. I LOVE getting rid of leftovers!
On my shopping trip this weekend I came across these!
I love Special K products but I haven't bought them in a while for one reason or another. These new products were on sale 2/$5 so I decided to give them a try! They are addicting and really satisfy my salt-tooth. 🙂
Dinner: Nolan and I went into this weekend wanting to try out a new recipe. After lots of Googling, we both agreed to make these!
I have seen many different renditions of these mini lasagnas and Nolan and I both made ours the way we like them. I used fat free ricotta cheese and mixed veggies, (spinach, red peppers, onion, zucchini) and Nolan used ricotta, Parmesan, and ground beef. We both topped ours off with marinara sauce and mozzarella cheese. They were so fun to make and unbelievably delicious to eat! *official recipe to come*
I am always excited when we try out new recipes and they come our delicious! I am really looking forward to the upcoming flavors of the week, because we have a few more tricks up our sleeves. 🙂
-What is the best thing you have eaten this week?
-What flavors have you been craving lately?