Helllllllllllo there! Ugh, I am in SUCH a good mood this morning. Why? Well because I have a SNOW DAY!!!! Yes, we are getting hit hard right now in the Boston area. We should be getting 6-10 inches of heavy snow so I'm just hoping we don't lose power.  Now, I realize this means I have yet another day to make up in June, but I seriously needed a day off to catch up with my emails. Ever since the food show, I have been getting hundreds of emails from food companies wanting to work with Tasterie! It's fantastic, don't get me wrong, but it's very time consuming!!  Ok, enough babbling, onto this week's  WIAW post!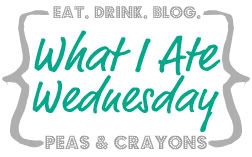 Brunch: 10:30
I woke up and just could not make up my mind about what I wanted for breakfast. I was craving salty, sour, and savory, so I decided lots of flavors onto one plate!
1 piece Arnold Protein Bread with Laughing Cow Cheese, 2 slices Trader Joe's turkey bacon, and a grapefruit! It really hit the spot and satisfied all my cravings. Plus, they extra protein filled me up! P.S- How adorable is that mug?! Nolan and I have "pet" raccoon that lives in the dumpster outside. We named them, we feed them, (we may have also sprung a trap so he wasn't captured by animal control) and we love them so when I saw this mug at Marshall's I HAD to get it for him this Christmas. 🙂
Snack 2:00 :
After my 3 mile run at the gym, I was starving so I refueled with 1/2 cup old fashion oats with 1 tbsp of Peanut Butter and Co Dark Chocolate Dream peanut butter! I was fortunate to meet the owners of the company in San Francisco and they gave me lots of samples to try! *lucky*
Dinner 6:00: I am soooo excited about this dinner, let me tell you. I don't know what has gotten into us lately but we have been cooking soo many new recipes lately!
 These are turkey meatloaf muffins and oh.my.god are they delicious! I found the recipe on Skinny Taste so each muffin is around 115 calories. What could be better?!
They are pretty straightforward  and simple to make and they came out so delicious! I have been trying to get more ground turkey into our kitchen and with this recipe, I don't think Nolan will be fighting me anytime soon. My only regret is that I got a little impatient (shocker) and took them out of the muffin tin a bit too early so they didn't sit long enough and fell apart at the bottom. They are not as pretty as they could have been but holy deliciousness! I am not totally convinced that everything tastes better in muffin form. 🙂
Dessert: I saw these at the supermarket and I couldn't resist!
They are new from Special K, called Moments. They are bite sized treats that satisfy that after dinner sugar craving. I bought them in two flavors (2/$5) Caramel Pretzel, and Chocolate Coconut. So far the Caramel Pretzel is my favorite. 🙂
Now it's your turn! what flavors have you been savoring this week???