Good morning, how's it going? I wish I could say I was feeling better, but I still feel like this:
But, it's day #3 of vacation and #2 of medication so I am being optimistic today! Today I plan on drinking a lot of tea (hot fluids seem to help with the mucus), put the finishing touches on the March Tasterie Boxes, and watch the Team USA men's hockey game! I also plan on doing zero talking because the more I talk the more I cough, the more I wheeze. Okay, enough complaining, and onto the food.  I have great eats to share again today in my WIAW post, which I consumed on Monday.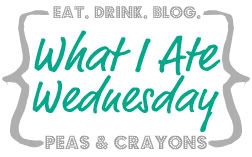 After last week's quiche, I switched it up and made a batch of mixed berry scones this week to have for breakfast. I must say, it's sooo nice to have something simple and delicious to just grab for breakfast every morning. Of course I didn't hog them all to myself, I brought 1/2 the batch to mom, down the street. The perks of living so close to home. 🙂
I used my typical scone recipe but I made some small changes to create something new. I used a raspberry Chobani for this batch and 1 cup of Trader Joe's Very Cherry Blend for the filler! For those who don't know, the VCB is packed with blueberries, cherries, raspberries, and blackberries. They sure came out delectable! I used my My Fitness Pal App and they are about 170 calories each which is perfect with a side of egg whites in the morning. Yummmmmy!  It definitely got a little messy but it was worth it.
***Above is a pic of the second batch of scones that I made, which is why the cookie sheet is so messy. No, I did not use a dirty cookie sheet.
I made a batch of Stuffed Pepper Soup this weekend, but this time I didn't use leftovers. I had a giant red pepper in the fridge, (seriously is was as big as my head, I wish I had a pic) and a package of extra lean ground turkey, and I was just craving this soup. I used about 1/2 pound of the ground turkey and I saved the rest for dinner.
Before I ate lunch, I headed to the gym for a 3 mile run (clearly this was not a good idea because 24 hrs later I was at the doctor for breathing treatments) and while on the treadmill I came across a Pillsbury commercial that immediately had my mouth watering.
It called for a package of biscuits, ground meat, and cheese. Simple right? I knew I had 1/2 pound of turkey in the fridge so I stopped on my way home and grabbed some biscuits. I actually didn't buy the Pillsbury ones because they were 190 calories a piece with about 5 grams of fat (YIKES) but I found a Shaw's brand biscuits that were only 100 calories per biscuit with 3 grams of fat. Much better. I flattened each biscuit and stuffed it with the turkey which I cooked in a little bbq sauce, and some reduced fat cheddar cheese.  They bake for about 10 minutes in the oven at 375. According to My Fitness Pal App- about 150 calories each. 🙂
I think they took me about 20 minutes to make, including bake time and they are just so fun.  AND there are so many possibilities! Nolan immediately requested I make buffalo chicken ones (shocker) and I'm sure some ground sausage with peppers and onions would be delicious too! They are a bit crunchy on the outside, and soft and gooey on the inside with that savory taste of bbq meat and cheese. Heaven. They are kind of like an adult hot pocket! *Kara- if you are reading these, you have to make them for Craig! 🙂

I served them up with a Shaw's steamer side which consisted on broccoli, peppers, onions,  and squash. Full Disclosure: I had 2 of them and Nolan ate 5. Obviously they are incredible. 🙂 Speaking of incredible, I was soooo excited to receive this package in the mail from Wonder Foods!
I had a chance to meet the founder of the company in San Francisco and she sent me some chocolate goodies to try and review! I got two boxes of coco pixies, two boxes of Java delights, and two bags of peanut butter truffles, one dark chocolate, and one milk chocolate. Coco Keeno used  70% organic cocoa that is rich in energy and antioxidants. I think my favorite product is their truffles. You would NEVER know it, but their "peanut butter" truffles are actually made with Pea Butter. Yes, Peas! Here is some info from their site:
"Golden" (Brown) Pea is one of the top 5 vegetables that are highly dense in nutrition. With a very low calorie count, it provides a great source of proteins and a whole range of essential vitamins and minerals to help strengthen the immune system, boost cell growth and development.
The taste is unbelievable and it really does have the rich and creamy taste of chocolate and peanut butter.
These treats are dangerously addicting so I have been savoring them instead of inhaling.
Okay, time to grab a scone and get started with my day. I just checked and I have 15 emails from last night that are begging to be answered.  Have a great day. 🙂
– What make you feel better when you are sick?
– Do you do any food prep for the week?
–  Savory or sweet breakfast?