I didn't do much food prep this week because we have a fridge stuffed with leftovers, and a few things that are going to expire soon. The only food shopping I did for this week's meals was buy some fruit and some yogurts because I was completely out of both. Other than that, it's leftover city! However, I had forgotten what a pain in the a$$ it is to pack a lunch when you don't have things pre made. I am wicked indecisive and having options always throws me for a loop. Here is a look at yesterdays eats and all the flavored I savored.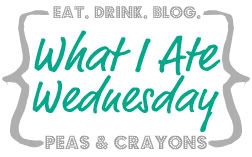 For breakfast yesterday I had a Tomas bagel thin with Laughing Cow, and a bowl of homemade fruit salad. This week's fruit salad was made with strawberries, green grapes, and blackberries, all of which were on sale.
Fruit can be so expensive, so lately I have just been sticking to the sales. Altogether I think this salad, which I made to last the whole week, cost around $6. Grapes were $1.99/lb, and the berries were each $1.99 a pint. **Tip. Squeeze lemon juice on cut
fruit to help it stay fresh longer.
A few hrs later I snacked on a banana and cheese stick, for a little pick me up.
Lunch was leftover Italian bread pizza and salad from Sunday night. We made a garden salad packed with mixed greens and cabbage, orange and yellow peppers, tomatoes, red onion, carrots, and topped with garlic croutons. Yummmmm. We made two different types of pizzas on Sunday, one with buffalo chicken, and one with bell peppers, onion, and hand rolled sausage meatballs. Both were very delicious, but I savored two pieces of sausage pepper and onion pizza for lunch, which tasted just as good as it did on Sunday.
These Italian bread pizzas are soo simple to make! I highly suggest trying them out!
Before leaving work for the day I powered up with a peach Chobani, currently my favorite flavor before heading to the gym. I am happy to report that I have NOT forgotten anything in my gym bag so I have gotten in two great workouts so far this week.
Dinner was another batch of leftovers, this time from Monday night's dinner. Nolan and I went out for dinner because we had a Groupon that expired on the 24th at Tavolinos. We had previously tried this upper scale Italian restaurant thanks to Groupon and we enjoyed it so much, we bought another one! The deal was for 1 appetizer and 2 entrees (up to a $55 value) for $20. Not bad at all, right?! We started with something called the Italian Nachos, which were incredible!
It's a mountain of flat bread pieces smothered in tomatoes, red peppers, Mozzarella cheese, and served with a thick marinara dipping sauce. They originally came with olives too, but since I despise them, I asked if they could substitute roasted red peppers instead and they happily accommodated, (after giving me a short lecture about not liking olives.) OMG were these flat bread nachos addicting! I have to figure out a way to make them at home next football season. We barely made a dent in the order and happily took home the rest. 🙂 For my entree I went with something I knew I could not make at home, butternut squash raviolis! They came served on a bed of roasted butternut squash, dried cranberries, and mascarpone cheese. They were like little bites of heaven and I savored every bite, and took half of it home because I was so full from the bread and nachos.
The lighting in the restaurant was terrible, sorry!
So that wraps it up for this week. What flavors have you been savoring this week??