I am soooo sorry. I just have not been able to get my act together this week, once again. Last year at this time I was on April vacation already but this year it's a week later and believe me, it makes a HUGE difference. Luckily I have next week off and won't need my mind at all! Because I have been so out of it, my eats are once again, pretty lame, prepared with very little effort.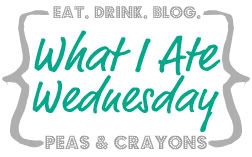 So far I have eaten the same thing for breakfast, lunch, and snack each day, which makes packing the night before a breeze.
Over the weekend I did some food prep which included a crust-less quiche and a fruit salad.
I have been enjoying it for breakfast this week with a cup of fruit salad.  This quiche consists of 6 eggs, 1/4 cup skim milk, a handful of frozen spinach, 1/2 tomato,  and yellow & orange peppers. My fruit salad has green grapes, cantaloupe, strawberries, and blackberries. It's been the perfect start to my mornings. A little sweet, a little sour, a lot of savory.
Yes, another boring turkey sandwich for lunch. The rut is real.
Snack time!
My go to dinner when I have nothing planned is stir fry. Some chicken, rice, and mixed veggies and there you go. I always have a bag or two of mixed veggies in the freezer for these low inspiration nights. Last night it was a Trader Joe's mix with baby corn, broccoli, peppers, onion, and carrots.
 Topped with my favorite stir fry sauce!
A few hours later I was craving something sweet and this cookie coco butter was calling my name from the cabinet!! I couldn't resist. 🙂 Don't judge.
Well it's not too exciting but those were my eats yesterday. What have you been eating lately?