Well as you may know, Nolan and I escaped to New Orleans last week for a wonderful foodie vacation. We saw and did so many fun things but the food definitely stole the show!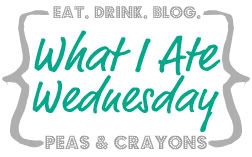 Breakfasts:
Our goal on this trip was to order things that we couldn't order or make at home. We wanted to try as many new things as possible, starting of course with NOLA's famous beignets. For those of you who aren't familiar, beignets are basically pieces of fried dough lol. They are a bit like a donut, covered in powdered sugar. I made sure to enjoy them one morning at Cafe Beignet with a cup of hazelnut iced coffee. Certainly not the best way to start the day but boy were they delicious!
Another morning, Nolan and I headed over to the Ruby Slipper, a breakfast joint that was recommended to us by a local. We could tell right away by the line out the door that it was going to be great!
We started with a round of Bloody Marys, which were pretty awesome, but the Eggs Coubion  STOLE THE SHOW! It's thin-fried Mississippi farm-raised catfish over french bread spears, topped with poached eggs, a sautè of spinach, tomatoes, artichoke hearts and tasso, finished with a Creole tomato Courtbouillon. OMG was this good and definitely one of my favorite meals on our whole trip!
Lunch/brunch
Our first full day in New Orleans was Easter. When we booked our stay, we were given a free brunch for two at the Court of the Two Sisters restaurant. It's an all you can eat buffet filled with Cajun favorites! We did our best to fill up our plates with unique eats we couldn't get here in Massachusetts.
Here is picture of one of my plates, (yes, 1 of 2 1/2) filled with gulf shrimp, crawfish, baked catfish, and Crawfish Etouffee. Look at how cute these little guys are!
Now, I'm sure some of you are like WTF?! How can you eat these? I am someone who is always willing to try something once and I'm glad I had a chance to try crawfish. They basically taste like sweet lobsters, and they are not fishy. I liked the meat, but this was the only time I had them whole. I did enjoy them in soup, stuffing, and pasta salad. 🙂
My favorite meal on vacation was this one. One afternoon we were walking down Royal Street and we came across this oyster house. I am a seafood lover but believe it or not I had never had an oyster before! We got seated high up on the balcony and ordered a dozen oysters on the half shell. As we were waiting for our meal, a truck pulled up and about 500 pounds of fresh gulf oysters were delivered. Doesn't get better than that!
We were SHOCKED at how large they were! Look at that oyster!!!! I topped mine with fresh lemon and a splash of cocktail sauce and hot sauce. I fell in love.
Part of what makes food taste so good is the atmosphere. I sat with the man I love on a romantic balcony overlooking one of the coolest streets in the U.S, soaking in the sun and watching people walk by. It was one of the best meals I have had in my life, and it was so simple. They were so good in fact (and cheap!) that we said what the hell, and ordered another dozen. 🙂
Snacking in NOLA:
We spent most afternoons walking around taking in the sights, the music, the culture,  and the vitamin D! Occasionally when we got hungry, we stopped in a little shop or market and grabbed something to snack on.
Yes, we ate alligator!
There was one afternoon that we stopped at a bar on Bourbon Street to watch the Bruins and eat some unusual appetizers.
We ordered Crawfish Beignets, and Alligator Traps. They were both very unique and delicious.
Most nights we didn't eat dinner. Between the $3 drafts and the filling snacks and lunches, most nights we were too full to eat.  But one night we did share a bowl of chicken gumbo which was sooo yummy. I can't wait to recreate this meal at home.
On our first day, we got to our hotel around 7 and we were starving so we went to the first sandwich shop we could find. Nolan got a giant po boy filled with fried shrimp and covered with bisque. It was the most delicious thing I have ever eaten and I seriously wish I could have one every day!!
Believe it or not I didn't gain any weight on this trip because we walked an average of 5 miles a day. It was quite a work out! If you are a food lover and have never been, I HIGHLY suggest taking a trip to New Orleans!