Gooooood morning! Now that it actually FEELS like spring outside, I am taking advantage of the fresh flavors. I have been stocking up on fruits and veggies as they come into season.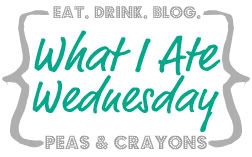 Here is a look at my eats on Monday, May 5th. I apologize for the quality of the photos but they were all taken with my phone, not my camera. As always, thanks to Jenn for hosting this week's WIAW party!
Breakfast: I made myself a little Mexican style omelet stuffed with peppers, onions, salsa, and my favorite corn and chili salsa from Trader Joe's.
I figured out that if I microwave my eggs in a round dish, they take the shape of the container and then I can flip one side over the other to make a perfect omelet! SCORE!
My favorite lunch that I have been eating for the past 2 weeks is salads topped with deli meat! Idk why I have never thought to do this before!!! I make my typical salad with mixed greens, tomato and peppers and top it with 2-3 slices of deli turkey breast and it's freaking delicious! I get the protein of the meat without all the carbs from sandwich bread. It's also pretty cheap to compile which is always a plus!
This weekend I bought strawberries and blueberries and they actually tasted like strawberries
and blueberries! Winter fruit is usually water logged and has very little taste. It's becoming that time of year where berries are fresh and have lots of flavor. I made a little parfait using a vanilla Chobani. So yummy.
I am currently addicted to Werther's sugar free hard candies! They are the perfect kick of sweetness after my lunch and it keeps my chocolate cravings at bay.

Last week I hit an amazing find at the grocery store- clearance meats! Shaw's has a huge selection of meat that was about to expire and I went a little nuts


I ended up with chicken, turkey, chicken sausages, buffalo chicken, and a TON of ground pork. $1 per pound?! Sign me up! Monday night I cooked up an entire package of ground pork to incorperate into meals this week. Monday night's dinner- Stuffed peppers! I used this recipe, just used pork instead of beef.
I really couldn't tell the difference. In fact, Nolan and I discussed at length that they may have mis marked the meat in the first place because it tasted a lot like beef. Oh well, it was delicious anyway.
With warmer weather comes frozen yogurt! I headed to Sweet Spot for a sweet treat after dinner. My new favorite flavor combo is cookies and cream with cake batter yogurt mixed in. Heavenly. I topped it off with Oreo's, Snicker's pieces, toffee pieces, and yogurt chips.
-What is your favorite frozen yogurt topping?
-Peanut butter or caramel?
-What's the best thing you have eaten this week?