Hey hey hey! Morning. This week I have been trying out a few new foods, recipes, and ingredients. These are small changes but they have been spicing up my eats a bit because there's nothing worse than a food rut full of stale flavors. Here are some snapshots from yesterday's eats and some foods you should try too! As always, thanks to Jenn for hosting WIAW!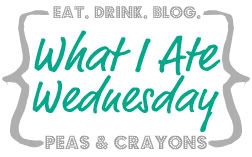 Breakfast=most important meal of the day.
I saw this at Trader Joe's for $1.99 and couldn't resist trying it. I am a big fan of oatmeal and in the past I have tried quinoa based breakfast cereal and enjoyed it.
The package comes with two adorable frozen blocks of quinoa, which should remain frozen until you are ready to prepare. After about 2 1/2 minutes in the microwave it comes out nice and hot and about the same consistency of oatmeal.
It's not grainy at all and goes down really smooth. Clearly it's very un-photogenic! I tried it without any add ins and honestly I think it's great by itself. It's sweetened with brown sugar. It would probably be great with sliced bananas but I don't have any at the moment. This is definitely something I will buy again.
A few hrs later my stomach was rumbling so I snacked on one of my favorite salty snacks from Trader Joe's. Have you tried these yet? If not, get on it!
This week's lunch has been a bowl of homemade turkey spinach soup. For the first time, I bought Jennie-O turkey. I love the Biggest Loser and their contestants are always eating and endorsing this line of lean meat and since it was on sale I decided to give it a try. My initial reaction was "OMG this looks like dog food" because when it comes out of the tube, it keeps the shape in kind of a gross way. I cooked it with a little garlic salt until it was nice and brown and much less canine. I used about half of the package for soup and stored the rest in the fridge to have throughout the week. To the turkey I added 5 cups of water, 2 beef bouillon cubes, and 1 vegetable bouillon cube to make the stock. Into the pot went whatever veggies I had on hand which this time consisted of frozen spinach and my favorite blend of frozen vegetables. I will admit it isn't the most exciting soup in the kitchen but hey, use what you have!
Over the weekend we did some Mother's Day cookout shopping at BJ's. Have you ever been to one of these mega stores?! They are seriously out of control and have everything you could ever dream of possessing. I wish we had some storage space because I would stock up of groceries here but with only two mouths to feed, it doesn't make sense to buy everything in bulk or a 5 pound can of tuna. BUT As far as snacks go, I'm all in! I will be able to snack on this industrial size bag of Skinny Pop for the next month! SCORE!
One of my favorite thing about my job as a teaching assistant is that I can work a full day, run 3 miles at the gym, and have dinner cooked and on the table by 5:30. It's am amazing thing!
Once the weather gets nice all I want is grilled meat. NOTHING tastes better than food that was cooked outside. Maybe that's my inner camper talking, but I will go to the ring on that one. Last night I grilled up some split chicken breasts on our balcony grill. (I cannot wait until we have a back yard with a patio and a giant grill. *Sigh*) The only thing I put onto the chicken was Grill Mates Montreal Chicken seasoning which always gives it a ton of flavor. Check out those grill marks! I think my ability to grill meat (ok, sometimes on the rarer side) is what keeps Nolan in love with me. 😉 I served it up with couscous and my favorite mixed veggies.
A few hours later Nolan turned to me and said the sexiest thing a man can say. "Can I buy you a frozen yogurt?!" Um, hell yea you can. So we hopped in the car and headed over to Sweet Spot for some dessert.
I went with a coffee-cookies and cream combo which was by far the pro move. I topped it with crushed Oreo's, coffee candies, and of course toffee. A.M.A.Z.I.N.G. I never get tired of this treat. And it's non fat! Perfect way to end the day.
-Have you tried anything new lately?
-Savory or sweet for breakfast?
-What's the WORST thing you have eaten recently?