Well, apparently the education gods heard my complaining yesterday because they gave us all something wonderful! Yesterday at school our septic pump broke, sending sewage up through the floors in the bathrooms! Oh yes, it was a shitty day, pun intended! Anyway, they are still unable to fix the problem soooooo SCHOOL IS CLOSED TODAY! Ugh, I cannot tell you how much I needed this random Wednesday off to relax and catch up on life.  Prayers were answered. 🙂 And even better? It's an absolutely gorgeous day out today! Can't wait to spend it outside.
Ok, onto the food! Thanks again to Jenn for hosting another What I Ate Wednesday post!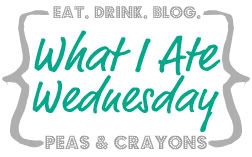 This weekend I did a lot of food prep because I knew I would be too busy and stressed to plan all my meals and cook them. At the same time, I knew I would NEED to cook after work to de-stress, so I prepped breakfast and lunch for the week but left dinner open for creativity.
This week's breakfast has been quiche. This quiche is a tiny bit different from those I typically make. I have made crustless quiche before but to be honest, it's not good. I love crust! It's the best part! However, it's not the best for you, so this time I used about 75% of my roll out crust and threw away the rest. I used enough to cover the bottom of the pie pan, leaving the edges open.
My toppings this week were orange and red peppers, frozen spinach, tomatoes, and chicken breast. I also didn't add any milk to my eggs for this quiche because I forgot to buy it. I used about 1/3 cup of water and it actually didn't seem to make a difference, except it's about 90 calories less. And I also forgot to buy cheese so that's not in this one either but again, less calories! I also made a giant fruit salad for the week full of strawberries, blueberries, and blackberries!
Lunch this week has been homemade chicken salad! I cooked up two chicken breasts and added about 5 tbsp of Miracle Whip, 2 tbsp lemon juice, 3 stocks of chopped celery, and some salt and pepper. I have been taking about 1 1/2 cups of it with me to work each day and eating it as is, not on a sandwich. So yummy! Now that it's warm out, I'm okay with having a cold lunch. In the cold months, I HAVE to have something warm like soup to keep me warm.
It's getting to be hummus season for me! There are some foods I can only enjoy in certain seasons and hummus is one of them. I just can't enjoy it when it's cold outside. Tribe was on sale this week so I decided to give it a try and I must say I love it, better than Sabra I'd say! And it's about $2 cheaper!
Did I mention it's less calories too? 60 in 2 tbsp!
Monday night's dinner was VERY exciting for me! Homemade grilled pizzas!!!!!! We kind of did this the lazy way. I bought individual pizza dough (pre-made) because one of the greatest challenges of my life is successfully rolling out pizza dough. It's basically impossible for me! UGH. So anyway, I sprayed them both down with olive oil cooking spray because olive oil is just not something I ever have in my pantry. I'm not an Italian cook, and I don't use a lot of oil in my cooking.
First I sprayed one size of each dough and grilled it for about 5 minutes on high. Then I flipped it, straying the opposite side and filling the other side with toppings. Nolan and I made very different pizzas. Can you guess who's is who's?
Mine is covered with yellow and red peppers, mushrooms, broccoli, and fat free ricotta cheese! Nolan's is that buffalo mess, topped with buffalo chicken, some of my leftover veggies, hot sauce, and shredded American cheese.
These came out better than I hoped! They were really crispy, but they were able to hold the toppings well. I did cook all the toppings before putting them onto the pizza because I wasn't sure how long they would take to cook and I didn't want to burn the crust. These are definitely something we plan to make on a much larger scale over the summer, but our test run was a success!
-Have you ever grilled pizzas?
– Would you rather only be able to eat fruits, or only be able to eat vegetables?