Better late than never! I have a little vacation hangover and I have been neglectful. Since it's still Wednesday, here is my WIAW post, based on this weekend's vacation!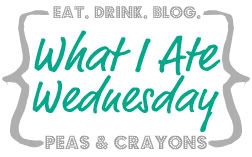 Whenever we are on the Cape, Nolan and I like to visit a small bagel place called Jo'Mama's for breakfast.
They are a hippie run little shop in Orleans, specializing in New York style bagels made into unique breakfast sandwiches or topped with creative cream cheeses. I am obsessed with their sun dried tomato bagels and I wish they were sold somewhere around here. There are two sandwich combos that I go back and forth between ordering.
1- The Feel Good-

2 The Veggy Lovers-

I cannot express how incredible these breakfast sandwiches are. I seriously look forward to these gourmet breakfast sandwiches all year because I cannot get them anywhere else.
Jo Mama's also has a self serve hot coffee station which means I can make my coffee exactly how I like it which always puts a smile on my face. Traditionally we take our food and coffee to go, and enjoy it at the local harbor. It's such a deliciously calming way to start the day.
Before heading back to the campground, we usually stop at Shaw's to pick up a snack and sandwiches for lunch. We pack the cooler and head to the beach. On this day we had sandwiches, pretzel thins, and fresh watermelon.

Dinner is usually our vacation wildcard! Most of the time we pick up something on our daily Shaw's trip (No electricity or refrigeration so we buy fresh daily), but sometimes we take advantage of being on the Cape and go out for fresh seafood. This weekend we did some grilling over the open fire and made sausage and peppers. We got Cajun style pork sausages, and I steamed peppers in a tinfoil bag over the flames. Sorry, too dark for photos!

S'mores over the fire is the best way to end the day!