Heyoooooooo! Hump Day! What a week it has been so far. I'm pretty sure I am losing my mind.  Yesterday morning I awoke in a panic thinking I was running late. Long story short I read my alarm clock wrong, thinking it was 7:20 and not 6:20 and I ended up going to work an hr early. Who does that?! This girl. UGH. All day long I kept thinking about the hr of sleep I COULD have gotten if I had paid closer attention to the time. Luckily, I did some food prep over the weekend and I had everything ready to go this morning!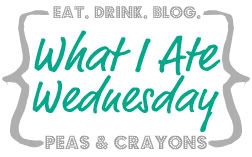 This week for breakfast, is another quiche. This week's veggy lovers recipe contains broccoli, orange peppers, onion, spinach, and mushrooms. Like a few weeks ago I only used about 75% of the crust to eliminate some unnecessary calories and it came out very well.
I also made another fruit salad this week consisting of strawberries, raspberries, and black berries. Perfect breakfast balance! Savory, sweet, & salty.
With the end of the school year rapidly approaching, I have been staying heavily caffeinated! I am currently out o K- Cups and I keep forgetting to pick them up when I'm out. Thank god for Dunks!  After yesterday's morning fiasco I was in serious need of a large hazelnut coffee.
Lunch = boring. Turkey sandwich with lettuce, tomato, and avocado.
On the side I enjoyed some roasted red pepper Triscuits! I found these at Walmart and they magically jumped into my cart. Oops!
Do yourself a favor and try these! They have a ton of flavor and are perfect with a sandwich. Where are you on the Triscuit vs Wheat thin debate? I go back and forth.
 I came across these on the Trader Joe's NEW shelf and had to try them. They are new fruit bars that come in about 5 different flavors. They sell for 0.99 cents each.
The bars are just fruit, nothing else and they are pretty delicious. Each is 90 calories, but they aren't very filling because of the low fiber and protein. But they are real tasty and a good on the go snack! I plan on grabbing a few more next time I go to TJ's. So far the mango is my favorite. 🙂
For dinner, Nolan grilled up some chicken breasts, which has definitely become a staple in our house. I couldn't decide if I wanted it on a salad or with bbq sauce so I decided to have it both!
I ended up passing out pretty early on the couch last night because of my early start so dessert wasn't on the menu! Oh well, I'm sure I will make up for that later on in the week. Have a good one!