Good morning. How's it going? I had a pretty late night because I went to the Under The Sun concert in Boston! It's a 90's show featuring some of my favorite 90's bands including Sugar Ray, Smash Mouth,  Blues Traveler, and of course, Uncle Kracker. It was such a fun night, but I am just now getting out of bed after my late night. Ok, onto the eats!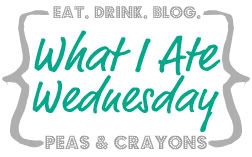 Can I just say that I am loving this farm share. I have been eating a wide variety of vegetables every day and I am constantly challenging myself to incorporate them into every meal. This has lead to lots of new recipes!
Breakfast is easy as long as I have eggs. I'm still not great at making omelets, (they come out more like a scramble) but this one is stuffed with deli turkey, peppers, onions and American cheese.
For lunch, fresh salads topped with green and purple beans, summer squash, and more deli turkey! (it was on sale this week)
 It's amazing how much better fresh vegetables taste. They have me hooked on salads, which is not something I usually enjoy eating.
Snacking on kale chips
Cherries! <3
Dinner on Monday was super simple. I posted this recipe yesterday on my list of simple summer suppers All I did was cut up come veggies and cover them in spices surrounding chicken thighs. This got baked in the oven for about 1/2 hr or until the chicken was cooked and veggies were tender.
It came out looking and smelling wonderful! The juices from the chicken help cook the vegetables and keep them moist.
After we ate, there was a lot of leftovers so what I did was chop up the chicken, add some more chicken broth and some frozen veggies and made a soup which I have been having for lunch.
I've said it before and I will say it again, soups are a great way to get rid of leftovers and not feel like your eating last night's dinner. Nolan is not a leftover fan, so I try to make something new out of something old so it doesn't get thrown away. R-E-C-Y-C-L-E, recycle!
What have you been snacking on lately?
Are you a fan of leftovers?