Goood morning! Today I am sharing some of yesterday's eats in hopes of inspiring others to try new flavors and ingredients. Thanks to Jenn for hosting What I Ate Wednesday, as usual.
***********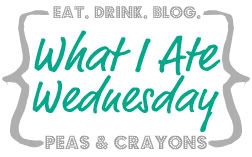 For breakfast yesterday, I attempted to make an omelet. I just can't do it. IDK what my problem is but I can never make an omelet that doesn't look like it's half eaten already and this one was no exception. Anyway, it was stuffed with peppers and cherry tomatoes fresh from the farm, and onions and some American cheese.
It kept me very full all morning, and was great fuel for my workout. After my morning run, I was starving and a turkey sandwich came to my rescue, piled high with smoked turkey, cheese, peppers, tomato, and banana peppers. Not too exciting, but adding banana peppers gave this sandwich the extra kick that it needed and made it feel a little fancy.
So I threw a little party in the produce aisle yesterday when I saw that plums were $1.99/lb. I love my farm share, but it's 99% vegetables and I have been craving some fruit lately. This one was very juicy!
I also found this at the grocery store and had to give it a try. Chobani with oats?! I usually add fruit and Special K to my yogurt for a little texture so this lumpy (doesn't sound good huh?) snack was up my alley. Honestly, I liked it! It's a bit more calories than the typical Chobani (160) but definitely tastes more substantial. I wish they came in more diverse flavors because blueberry is NOT my favorite but I def recommend giving it a try.
I have so many leftovers in my fridge so instead of wasting food and cooking something new, I got creative and made little buffalo chicken hot pockets with last week's leftover shredded buffalo chicken. I used a store brand biscuits (ghetto Pilsbury) which I flattened, filled with buffalo chicken, hot sauce, and cheese, and folded closed. After 15 minutes in the oven the biscuits were golden and flaky and oozing with spicy goodness.
I will be honest, the tube came with 10 biscuits but I was only able to make 9. I used the 10th one to patch up the holes on the other 9 that I made stretching the dough too thin. LOL I served them up with some farm fresh corn on the cob and light ranch for dipping.
These things are ADDICTIVE little suckers! Luckily there were only 9 and Nolan ate 6 of them, or I would have been in trouble. I hadn't made hot pockets in a while and I forgot how simple and fun to eat they really are. I used up all of my leftovers and a ton of my farm share for this week. Win. Win. How do you utilize leftovers?