Morning! How is your week going? It looks pretty crappy outside today. 🙁 It's supposed to rain all day which is going to make it very hard to be productive. I got a lot done yesterday (didn't find time to blog) but there is still so much I need to do to get my classroom ready for the first day of school. We also planned a last minute trip to the Cape to celebrate my final weekend of the summer. I can't wait! Alright, onto the food!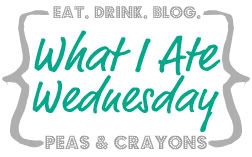 This What I Ate Wednesday is from Monday. My taste buds have been all over the place, so many of my meals are a mix match of flavors, starting with breakfast, which yes, I ate in bed around 9. Be more jealous.
Scrambled eggs (1 egg, 2 whites), a piece of turkey bacon, 1/2 an avocado, and a few cherries. Sweet, sour, savory, and salty. A little bit of everything!
I had a bunch of errands to run in the afternoon which included a workout, light grocery shopping, and picking up some things for Nolan, so lunch was kind of a two part-er. Part 1: I still had leftover Mozzarella from our pizzas, so I made a little Mozzarella and tomato salad with fresh basil. I know I have said it before, but these farm fresh tomatoes are just so incredible! They are sweet and juicy and just taste like summer. And you can't beat the cheese/tomato combo!
After my errands, I was still a little hungry, so I made up a hummus platter with carrots, red bell peppers, celery and a few bean chips. Part 2.
As soon as I finished second lunch, I got to work on dinner. RIBS! I had never made ribs before so I was pretty skeptical but Nolan was helping me through the process on G-Chat all afternoon. We decided to slow cook them for about 3 hrs at 250. The first thing I did while waiting for the oven to pre-heat was dry rub the ribs with a combo of Grill Mates Pork Rub, and Pampered Chef's Smokey Applewood Rub. Next, I slathered them with Sweet Baby Ray's Sweet 'n Spicy bbq sauce.
Let me just tell you, the apartment smelled amazing!!! I was dying to dig into these ribs. To keep my mind occupied I whipped up some homemade mashed potatoes with last week's farm share potatoes using this old recipe. 
YUM! The ribs wern't quite fall off the bone but they had a ton of flavor! I am loving this bbq sauce. So far they re the best thing I have eaten all week. 🙂
A few hrs later I was craving something sweet so I snacked on some mango while watching Jimmy Fallen. Pretty good night!
So, what have you been eating lately? Anything delicious to share?
Enjoy the day.