Hey there! Today is kind of a crazy day, so I am going to dump some food pics on you, and go be productive. Sorry, but that's how today is going for me. Onto the food.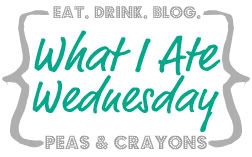 Breakfast-quiche, made with peppers, onions, basil, and farm fresh tomatoes!
Lunch began 8 hrs prior, in the crock pot. I threw together a simple chicken soup with a bunch of this week's farm share veggies: Kale, Carrots, red potatoes, and onions. The potatoes dyed the broth so it's not the most attractive soup but it was delicious.
Snacking on some cherry tomatoes!
Dinner was actually pretty ugly too. 
I made one of my favorite go-to-recipes but it got a little too mushy and was kind of a big mess. (I only had a large can of diced tomatoes, and I think I used too many.) The recipe is sooo simple, with just  a few ingredients and it takes no time at all. Anyway, it tasted great which is really all that matters, right?
I was really excited to utilize  some of this week's fresh veggies. I have a few other new recipes up my sleeve, so I'll keep you posted!
Enjoy the day.