Well, I officially lost the battle against the cold I had been fighting since Tuesday. I woke up Tuesday morning with a sore throat, which is always the warning sign of what's to come. By the end of the school day I was achy and real congested but I went to the gym anyway, which was certainly a mistake. Yesterday I woke up feeling ok but by the end of the school day I was a red nosed mess. I skipped the gym and collapsed on the couch and I eventually talked myself into taking a sick day today.
As an elementary school teacher it's soooo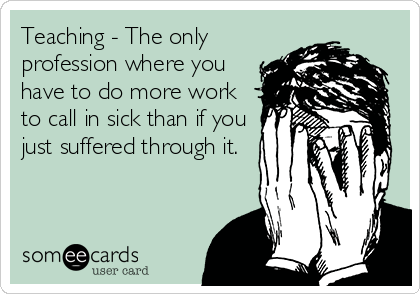 hard to be absent. It took me almost 2 hours to put sub plans together and create some simple assignments that the sub could give my class. But when I started coughing last night I knew my body needed a day to not be "on" because as soon as that cold reaches my asthmatic chest, it's game over.
So, I am currently sitting on the couch with a hot cup of tea and I can' help thinking of how much sick days suck when you are actually sick. 🙁
Hopefully tomorrow I will be feeling better, just in time for the weekend!